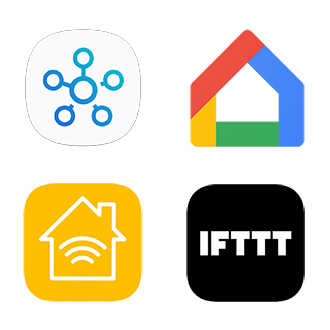 Hue Smart Lights smart light devices are connected to the global IoT/SmartHome Application Ecosystem, including:
Connect Samsung Smartthings

Connect Google Home

Connect Apple HomeKit

Connect IFTTT (app ecosystem)
Samsung SmartThings 
Samsung SmartThings is an attractive Smarthome platform. In 2017, the Korean tech giant released a brand new Hub device, Samsung Connect Home, as well as an improved Connect Home app to help you manage all your devices and easily Set up new devices. SmartThings can also act as a Wi-Fi network and can place up to five Connect Home Hub devices around a house for Wi-Fi coverage.
SmartThings Hub has support for both Zigbee and Z-Wave standards, which means support for a wide variety of non-SmartThings-branded toolkits. Add in all the other devices Samsung makes – from TVs to smartphones – and the Bixby digital voice assistant, and you have plenty of choice and flexibility.
Bixby isn't quite on par with Amazon Alexa, Google Assistant, or even Siri yet, but it works well for controlling devices around the house and is getting smarter all the time. The SmartThings app for your phone uses a clean interface and layout that makes it easy to control individual devices and group them together in rooms.
If you already own a Samsung device – like a TV or phone – then SmartThings is worth considering as a home platform.
It's all very simple to set up and use, and in 2019 Samsung released a new smart camera, smart bulb, and smart plug to the lineup. Above all, you should be interested in the Samsung SmartThings ecosystem, because if your mobile device is using a Samsung phone with the Android operating system, it is likely that your device has the SmartThings application pre-installed.
Google Home
Google Assistant
Google's answer to Alexa came to the Google Home speaker in 2017; and like market leader Amazon, it's all expanding to support more devices built into your home.
There are many Google-made speakers that support Assistant: classic Google Home, Nest Mini (formerly Home Mini), Google Home Max (officially discontinued at the end of 2020), Google Nest Hub (with display) 7-inch screen), the Google Nest Hub Max and the newest smart speaker in the group – Nest Audio. In addition, Google Assistant also
supports smart TV speakers and displays from third-party manufacturers including JBL, LG, Sony, Lenovo, Panasonic, and Sonos.
As with Alexa, there are two types of devices with the Google Assistant: those with the Assistant built-in so you can talk (the list includes smartphones and Chromebooks) and those that can control the Google Assistant. controlled by the Assistant.
The Google Assistant is the same across all devices – like your Android smartphone or Wear OS smartwatch. Apps can control your music, display news and weather reports, control other smart home devices and gadgets, set timers and reminders, and even make and receive calls.
Google Nest speakers can be linked for multi-room audio, and you can have up to six different users on a single network, for personalized music playlists and calendars.
This popularity gives the Google Assistant an advantage over Alexa: if you have an Android phone, you're probably already familiar with the app. It can stay with you throughout the day, from asking for a weather forecast in the morning, through your commute to and from the office until you get home.
You can also make these same requests with Alexa (can set it as your default assistant on Android and use it from within the Alexa iOS app), but the Google Assistant is the default and has easier for most people.
Apple HomeKit
HomeKit is a software platform that's built right into Apple devices, and the idea is simple – instead of having a bunch of different smart home apps on your smartphone that don't necessarily sync with Together, HomeKit brings them all together, providing control and hub on your device.
Everything is controlled through the Home app on your iOS, iPadOS, or macOS device, and as you'd expect, it all works with Siri. You can fire up the Home app to change the temperature of your smart thermostat or turn off your smart lights, or just ask Siri to do it for you.
There are actually two parts to Apple HomeKit. HomeKit itself is a protocol, a background software technology that devices need to adhere to in order to access the club (it's also super secure, with Apple taking encryption very seriously). Then there's the HomeKit element that you'll see on your iPhone, iPad, or Mac, the Home app.
For something to work with Siri, the Home app, and Homekit, it needs to have the 'Works with HomeKit' certification/label on the product packaging (or on an online listing). With Siri built into iPhone, Mac, Apple Watch, Apple TV, and HomePod, a device in the home is never out of reach of Siri.
IFTTT (If This then That)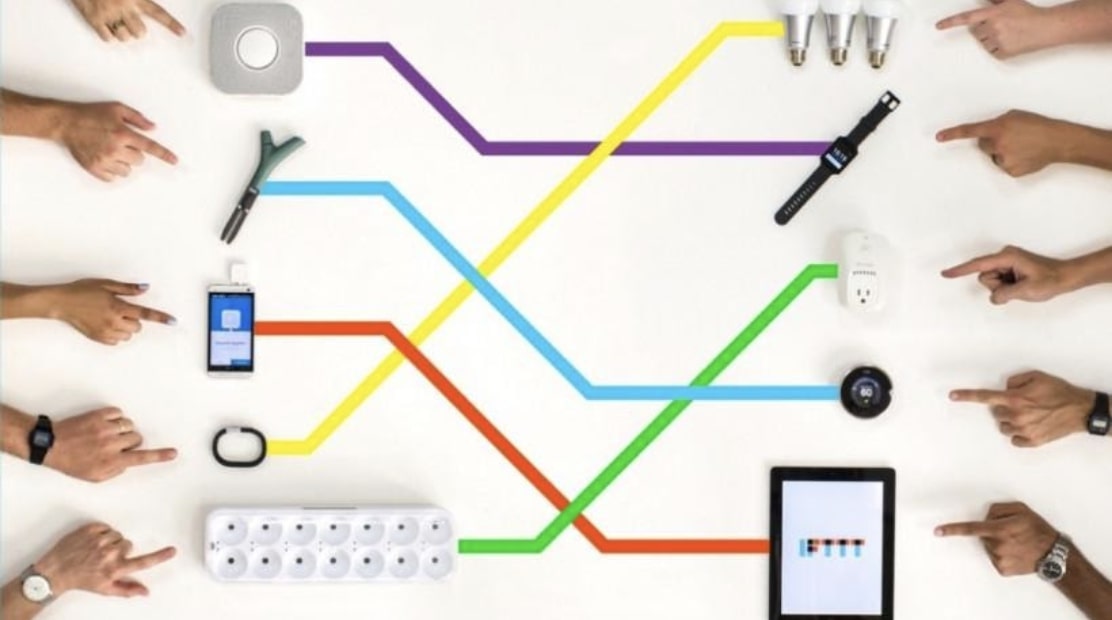 IFTTT (short for If This Then That) is not really an official smart home platform but can connect smart home devices together. It works by using an 'Applet' which is made up of triggers ("if this") that then lead to actions ("then that") – e.g. if it's 9am, do turn on smart home lights.
In fact, IFTTT was already innovating even before Alexa, HomeKit, and the Google Assistant started working. It works with big names like Philips Hue, Belkin WeMo, Lifx, Ring, iRobot, Nest, Tado, and more. and can connect to Alexa and Google Assistant if needed (of course, HuePress smart devices and smart lights are no exception, they have been tested to work with IFTTT).
IFTTT doesn't quite have the simplicity and ease of use like some of the other SmartHome platform options above, but it's definitely suitable for those who want to tinker and have more control over what their smart home devices do. they are (adding advanced features). You can also use IFTTT as an 'add-on' to any official smart home platform you already have in place.
IFTTT can be operated through the website and also has mobile apps. It's also worth considering beyond the smart home context, with Applets covering all sorts of apps, services, devices, and more – you can use it to do everything from auto-tweet to change the wallpaper on your Android device.
[/vc_column_text][/vc_column][/vc_row]