Hue Lighting – Multi-level SmartHome ecosystem
The term SmartHome (or Smart Home) is becoming closer and closer to the Vietnamese market. In Vietnam, the penetration rate of smart home products and services is currently at 11.9%, equivalent to 3.2 million Vietnamese households using SmartHome devices.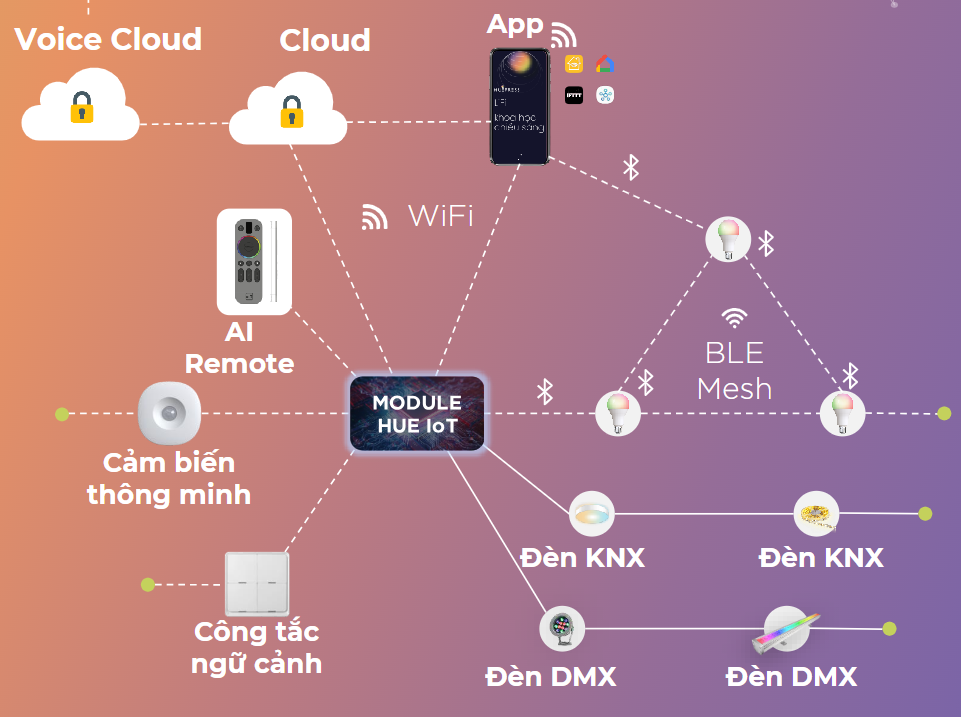 I. Competitive advantages of SmartHome Huepress System?
1 Simple, convenient, low cost
Huepress provides a simple, convenient and cost-optimized SmartHome solution. Huepress products support and connect many different standards, both wireless and wired. Through Huepress's myHue app, customers can connect and control multiple smart devices in their home without the extra cost of expensive hubs.
2 Possibility to upgrade and expand
Proprietary technology developed by Huepress (firmware, app) makes it easy to add, upgrade, expand unlimited number of devices, connection standards, compatible with smarthome and IoT platforms globally. . With technology, lighting solutions and proprietary light modulation help Huepress create a more special point compared to other brands on the market.
3 Technological barriers, patent exclusivity
With approximately 10 years of intensive R&D experience in light digitization technology (LiFi) and development of telecommunications technology platforms for IoT, HUEPRESS started by manufacturing IoT devices for smart home ( new smart lights, switches, sensors and remote controls). On top of that, Huepress possesses core technologies such as LiFi, augmented reality, centimeter-accurate positioning and directions, and IoT security technologies. All of the above core technologies and devices are the premise for the breakthrough services behind, together creating a complete ecosystem. These technologies are protected by 11 patents/applications in Vietnam and 1 PCT. In addition, we co-invent more than 50 international patents worldwide.
II. Smarthome systems HuePress offers
1. Direct control of BLE mesh
This is the most basic system of HuePress that provides users with the most basic smart features at the most optimal cost. The system includes BLE mesh luminaires that are controlled directly through the myHue app or a smart switch without a hub.
For customers who are new to smart devices, this is the perfect choice because with only a small price, you can experience smart products.
2A. Transform ordinary lights into smart
With only 1 Huebox smart controller (C1 – C3), customers can upgrade the existing lighting system in the house. The devices will be connected to Huebox and controlled through the myHue app to help turn your ordinary light into a smart light with remote on and off features, brightness adjustment,…
With the advantage of easy installation, this solution will be suitable for households with lighting systems with a small number of devices that do not want to replace them.
2B. Transform ordinary lights into smart (extend)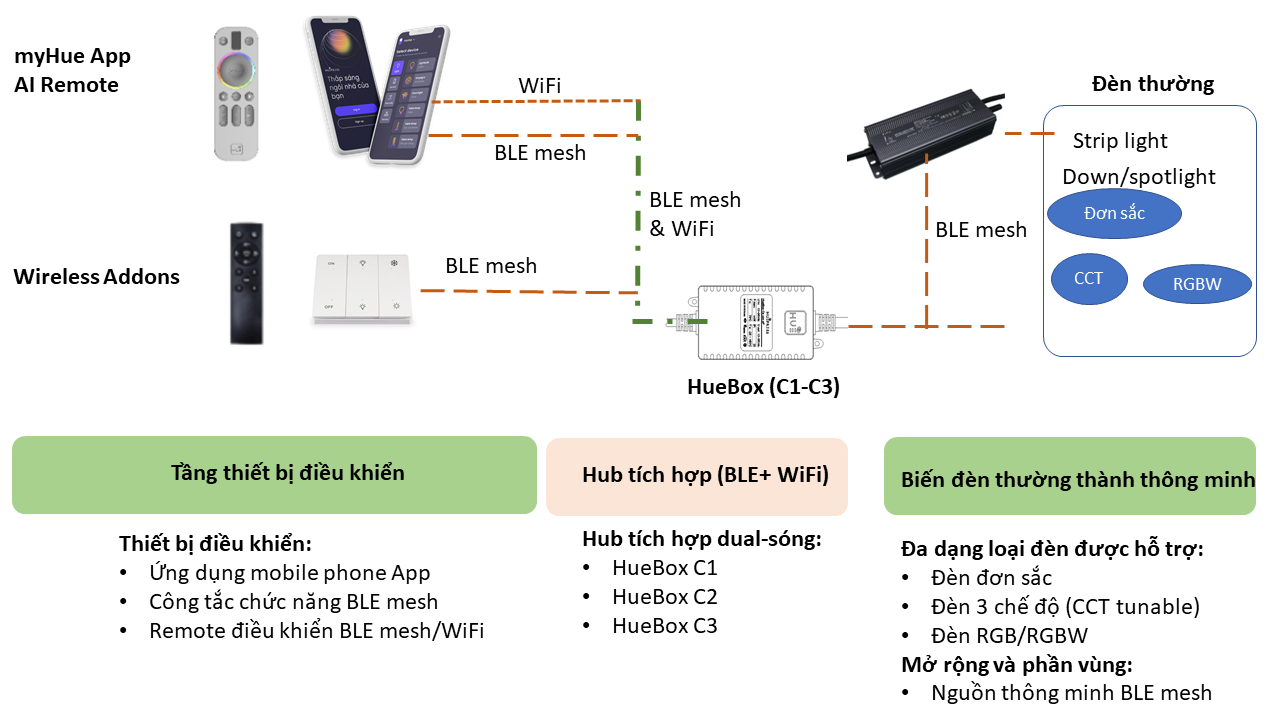 Với việc thêm nhiều bộ điều khiển hơn, hệ thống mở rộng căn bản giống với hệ thống 5.2A nhưng áp dụng được cho nhiều thiết bị hơn và giúp tùy biến hệ thống chiếu sáng phù hợp hơn với nhu cầu sử dụng.
Instead of using a box to directly control the lights in the room, this system will use a box to control the boxes that control those devices. This is an upgrade of the 5.2A system for families with a larger number of devices and more specific lighting needs.
3. Lighting for SmartHome (with Hub)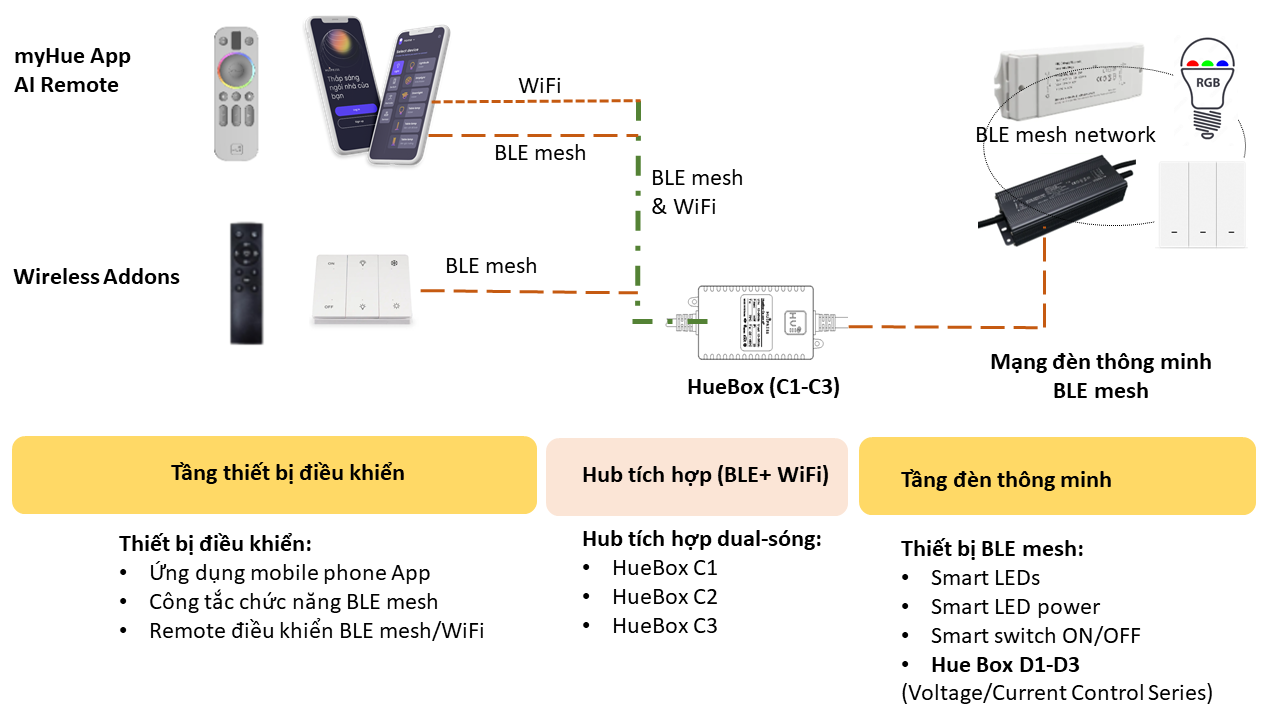 The standard system of Smarthome provided by Huepress. Smart devices will be connected and controlled via Huebox (C1 – C3) from lighting devices, sensors, smart switches,…
This system is an upgrade of the 5.1 system. This system as an upgrade Huebox helps to increase the number of devices to manage and control smart products even when you are not at home of the 5.1 system. Therefore, it is very suitable for customers who use smarthome systems for the whole house.
4A. DMX professional lighting (building landscape, garden, swimming pool)
Different from the above indoor lighting solutions, DMX is an outdoor lighting technology, landscape, garden,… Huebox C4 connects to wired DMX outdoor lighting devices and is controlled via the myHue app or wifi and ble mesh switches.
The system is suitable for customers who need outdoor lighting for gardens and swimming pools without too high requirements.
4B. Professional lighting (hybrid wired and wireless network)
As an upgrade of the 5.4A, the 5.4B system using Huebox C5 can connect to the DALI lighting system both wired and wirelessly. Infrared, DMX and DALI switches and controls can be integrated.
5. Overall building lighting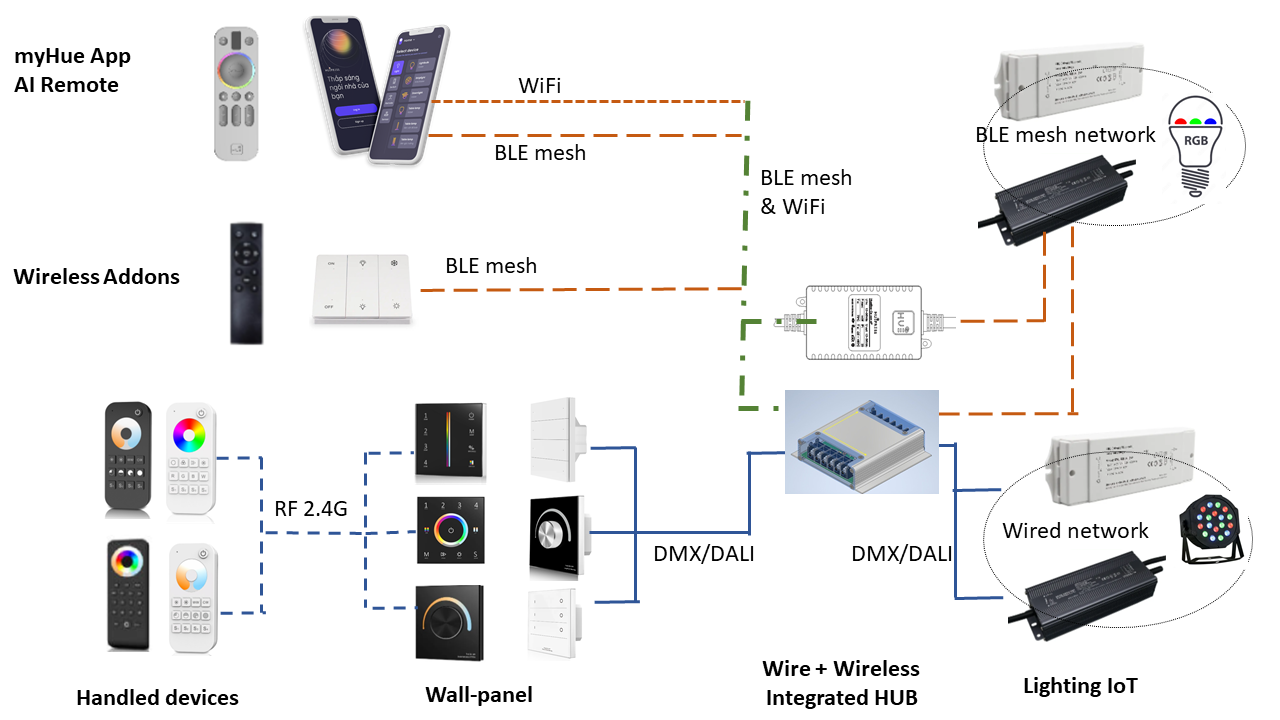 Is a complete system combining indoor and outdoor systems of HuePress. The smarthome system provides a convenient experience with sensors, lights, and switches that make it more comfortable in the indoor space itself. The outdoor landscape lighting system enhances the moments of living outside the house to become more convenient.